SIGN UP FOR THE 2021 UGANDA MARATHON ADVENTURE
An Adventure Like No Other!
One amazing week to challenge yourself & make a difference: Sunday 30th May – Sunday 6th June 2021
"When I came back from Africa in 2006 I never thought that I'd ever have another experience that would even come close to it but the last 10 days in Uganda has surpassed it. To see the direct impact that this has had and will have out here has been simply incredible. Safe to say that the Uganda Marathon was the best thing that I've ever done – it really was a race like no other!"
– G. Elliot, Uganda Marathon participant
All options include the full adventure week and do not affect your price
A beautiful run through picturesque Uganda, along half of the route. Come for the adventure and top it off with a chance to run through the very best of Africa!
1 or 2 laps of our 13.1 mile course. Hills, rough terrain and an African sun makes this one of the toughest but most rewarding challenges that a runner can undertake!
Don't miss out just because you don't want to run! Have the best week of your life and then help other people across the finish line by cheering them on or helping out.
CHOOSE YOUR ACCOMMODATION
This is where you'll stay during the race week – Athlete's Village or The Hotel
Athletes' Village -
$995
€945
£845
$995
The Athletes' Village package will have you situated at one of the highest points in Masaka, with a 360-degree view of the area. You'll have a private room and bathroom and will be within a few minutes walk of The Glade, which is complete with campfire, outside bar and areas to relax after a hard days' volunteering.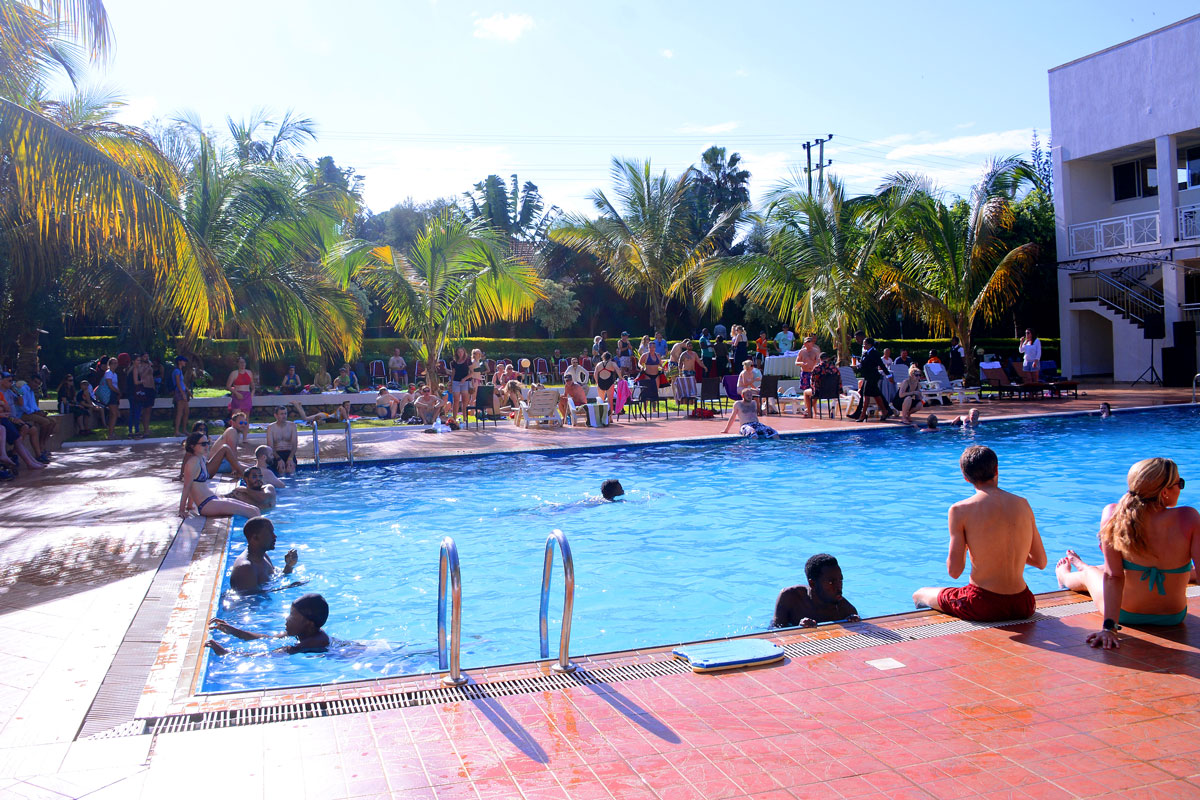 Marabou Village -
$1,145
€1,095
£995
$1,145
The Marabou Village package will have you staying in the best Hotel in Masaka. After the long day's volunteering, enjoy luxurious surroundings, an onsite spa, and an outdoor pool. You'll be a short 5-10 minute walk from the Glade and you'll enjoy a much more deluxe adventure.
Marabou Exec -
$1,345
€1,245
£1,145
$1,345
Upgrade your experience at the Marabou Village to stay in a beautiful room that overlooks the pool. You'll enjoy luxurious surroundings that include an onsite spa, and an outdoor pool. You'll be within a 5-10 minute walk from the Glade whilst enjoying the best that Masaka has to offer.
BECOME PART OF THE ADVENTURE IN 2021!
To sign up for the biggest adventure of 2021 just fill in our registration form and pay a $€£$99 deposit.
THIS IS EVERYTHING THAT IS INCLUDED ONCE YOU SIGN UP!
You're going to have an incredible experience…
An unforgettable week-long adventure in Uganda
7 nights accommodation at the Athletes' Village or Marabou Village
3 meals per day
All activities throughout your entire adventure.
Campfire evenings, entertainment, break dancing, music, drumming & dance (beer at the bar not included)
Race entry to the 10k, half or full marathon race on Saturday 5th June 2021
Feed/water stations & medical support
Don't fancy running but everything else sounds great? Take part in everything else and then volunteer on race morning!
Your entry fee also subsidies FIFTEEN Ugandan junior runners to participate – run alongside those you've helped
Race t-shirt
Airport pickup
Airport transfers (arrival Sunday 30th May and departure 5th/6th June only – available at other times for extra cost)
Pre-race package inc. in-depth training & fundraising support
Exclusive discounts on safari, gorilla trekking, volunteering opportunities and more should you wish to stay on in Uganda after the race
Flights (available for sub-£400 from Europe if booked well in advance – we will supply a list of suitable airlines and routes)
Ugandan Visa (£35/$50, available to buy in person at all entry points/ airports)
Incidentals (Alcoholic & soft drinks, souvenirs etc.)
REGISTER FOR THE 2021 UGANDA MARATHON - AN ADVENTURE LIKE NO OTHER!
To sign up for the biggest adventure of 2021 just fill in our registration form and pay a $€£$99 deposit.