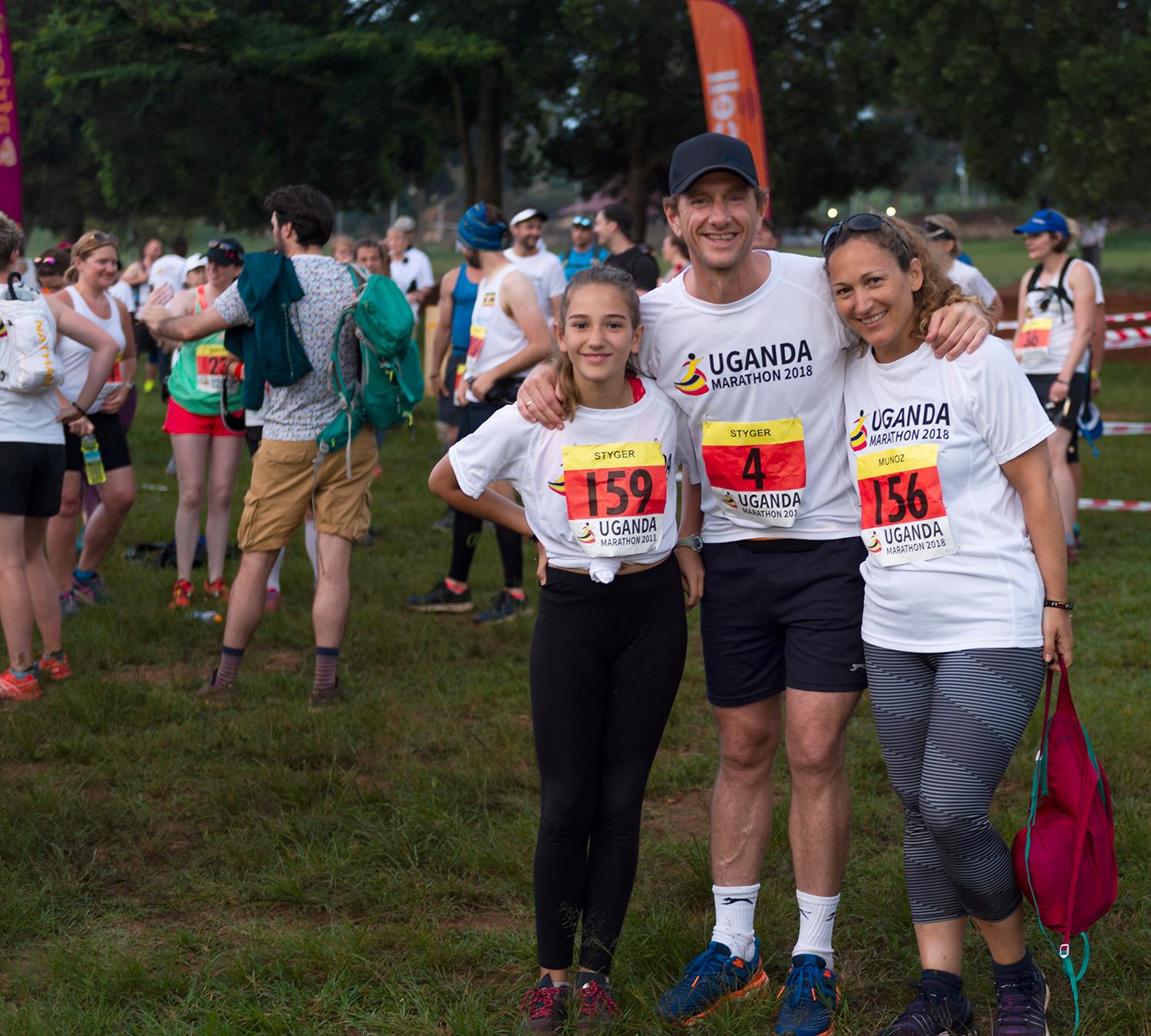 .
Here we interview runners who have participated in the Uganda Marathon, so they can share their stories and experiences from the 7-Day Adventure. After all, it's their involvement which makes the week so special, from the impact they have on the Charity Projects, to the community feel they give to Race Day.
Seb & Sara, with their children Gabriel & Chloe, joined us in Uganda as they were looking for an experience they could all enjoy as a family. Below, they tell us about their expectations, working together to achieve their fundraising target, their experiences in Uganda, Race day (which fell on Chloe's birthday!) and why afterwards, they sum up the week as 'the best trip we've done together so far'.
What made you sign up for the Uganda Marathon?
Now that our kids are into their teenage years, we wanted to do something together, a journey beyond the usual work/school experience, to bond as a family while investing a bit of ourselves to support others. In our constant ideological battle with our kids, digitally over-exposed and increasingly drawn to consumerism as many teenagers are, we thought it would be beneficial to get them to see other views of the world and hopefully instil a sense of gratitude and empathy for people that may not have been as fortunate. When a friend talked to us about the Uganda Marathon, we saw it had the potential of bringing us on a journey to Africa, to support some great organisations, and to make us work as a team for the fundraising project – all while helping us become a bit more fit in the run-up to the race.
As a family trip, did it meet your expectations?
Not only did it meet our expectations, it exceeded them in so many unforeseen ways!
It was our first trip to Africa together. We started with a small safari in Murchison Falls National Park, which was super exciting for all of us. When we got to Masaka, we were already looking forward to putting our hands and hearts to work with the selected charity and the kids were so very invested in every little task. The Uganda Marathon team were a pleasure to meet and work with and they had packed every day full of activities: to get used to the running circuit, to get to know Masaka and its people a little bit better and to support and understand the charities they work with. We felt humbled and grateful for the chance to participate in such a rewarding project and get to know so many inspirational people, both from the Uganda Marathon staff and amongst the other participants.
One of the best takeaways for us, as a family, was to understand that we could become agents of change, by supporting or becoming the people (and organisations) that dared to dream of making a difference. We hope our kids never forget that.
You fundraised for the Charity Project 'Scope' as a family. What was it like to fundraise for the event and how did you go about fundraising as a team?
The guide we received from the organisers was really helpful. We first read together about the different projects. Then, we discussed the ones we liked most and ended voting for the one project that we would support as a family. It was a difficult choice since there were so many powerful projects. But when our kids read that almost 50% of school kids in Masaka do not have access to meals and realised we could participate to change that, they were determined to make a lasting change in at least a couple of schools.
Once we had decided on the project, we set our goal to raise enough money to make food forests in two schools. And from there, we started recording our progress, letting our friends and colleagues know about our goals through Facebook, LinkedIn and of course in person. The kids presented at their school. We kept track of our running and posted our progress, as well as some facts and figures on the project and our motivation and goals. And with the help and support of so many of our friends, we managed to reach our goal on arrival to Uganda.
.
Could you tell us about your experience with 'Scope' during the week?
We got to work on permaculture (the development of agricultural ecosystems intended to be sustainable) twice. First trying to help create a food forest at the recycling station in Masaka, and secondly when we went to one of the schools that were identified by Scope.
That day was intense but so rewarding. The kids and teachers received us with a mixture of curiosity and shyness. We split into teams made up of volunteers, school kids and a Scope worker each. We were given tools to dig and cut, plants and fertiliser and so we spent the whole day working hard to build a food forest and understand the very basics of permaculture. At some point during the break, we realised our kids were sitting around, surrounded each by a big group of school kids, laughing, asking questions, wanting to find out more about each other's lives. The school kids may have been shy towards us, the adults. But they felt naturally attracted by other kids and that started a great afternoon of curious exchange.
.
Could you tell us about your experience of Race Day and participating in the 10K, which also happen to fall on Chloe's birthday!?
It was the first time we were running part of an official marathon and the atmosphere before, during and after the race was just unbelievable. We had trained a little over 3 months to make sure we would be in shape for such a demanding physical challenge. Although we had initially planned to run 10K together, father and son were swept away by the contagious energy and drive of the other runners and soon we're talking about taking the challenge a little further. It was with a lot of effort and through a serious talk with the event medics that Gabriel understood it takes more than a few runs to get ready for the half marathon at such a young age, so only Sebastien went ahead with the 21K.
The morning of the race you could feel the excitement and concentration of the runners, even through the music and lighthearted warm up. The medical team had briefed us the day before that the Uganda Marathon is considered as one of the hardest races in Africa, which was not hard to imagine after the daily training runs. On the positive side, the scenery was breathtaking as the clouds cleared up for the race, even if with the sun came the much-dreaded heat of the rising day. Everyone was out in the streets cheering showing support for the runners and it felt so rewarding to have such a good mix of local and foreign runners at the take-off. People would join in throughout the race, young and old, to show their support. Even little kids in sandals would run beside us, holding our hands for a few miles. It was clear that everyone wanted to take part in this unique experience! We all felt extremely proud when we crossed the finish line and have kept some incredible memories of that day.
As for Chloe's birthday, her initial sadness at being away from home and far from her friends to celebrate would soon dissipate in the celebrations of the race. It turned out to be one of her most spectacular birthdays to date, and one she will always remember. She realised how lucky she was to celebrate such a special day while completing her first ever official race. And although she was not expecting any celebration for her 12th birthday in the midst of so much activity, the Uganda Marathon team prepared a lovely surprise during the evening party at the Athlete's village. She was taken aback and so emotional when the 150 people, gathered to celebrate the end of the race, started singing happy birthday!
.
Before the week, you participated in an additional tour exploring a national park in Uganda. What was it like?
We did not have much time to explore the country as our trip took place during the June school half term. However, we did not want to miss out on such a great opportunity and booked a 3-day safari at the Murchison National Park before heading to Masaka for our week of social work that was to culminate with the race.
The trip was simply memorable, from landing in the middle of the park with our private safari plane, to hearing the hippos grunt literally 10 metres from our cottage or observing so many incredible animals in their natural habitats. The beauty of Uganda is that it's not as developed as Kenya, Tanzania or South Africa. Only once in the park did we realise why it is known as the Pearl of Africa.
Finally, for each of you, what was your favourite memory from the 7-Day Adventure?
It's hard to pinpoint one favourite memory from this trip as it was a truly unique and an unbelievable week full of surprises, encounters and celebrations.
The kids still talk about the local friends they made and how special it was to learn and connect with people from such a different culture. The safari, the week spent helping local communities, the atmosphere at the Athlete´s Village and crossing the finish line on our first ever race are probably amongst the best memories we've kept from our 'Adventure Like No Other'.
When asked, Gabriel mentioned he was taken aback by the passion that people have for music, and their constant positivism amidst challenging times. It showed him, he says, an appreciation of things that will always be with him. Chloe loved investing herself in the constant flux of activity and has fond memories of the permaculture experience, and how it brought so many clueless people together to accomplish this one task to satisfaction. She loved pairing with the local kids, during the activities, the race, at the school… and of course, the cherry on the pie was her unexpected birthday celebration.
For us parents, the joy of sharing such intense and rich experiences with our kids, all four of us discovering together a bit more about ourselves and about each other, and discovering a new place, new country, and new people in the most collaborative and immersive of ways. And surprised that we got so much back for the little we were able to give to the community. So, there are no words to truly describe what we felt as a family, apart from the fact that it was most definitely the best trip we've done together so far.
A big thank you to Global View Photography for sharing these great photos with us!